After creating software craftsmanship calendars for four years, we (the software craftsmanship calendar team) took one year off. All we heard through December of 2014 and January of 2015 was people asking us how to get their 2015 calendar! Well, there wasn't one! Unfortunately, none of us worked together anymore, so making the calendar became quite the challenge. There was no longer an employer backing all of us and fronting the bill for design costs and printing costs.
We found our solution to the problem though, we set up a Kickstarter to fund the initial costs of the 2016 calendar, and with the support of all of the backers of that campaign, we were able to create the 2016 software craftsmanship calendar.
What are these calendars?
The Software Craftsmanship Calendars use the motivational poster-style formatting with an image of a humorous real-world interpretation of a concept related to software development. These images and jokes throughout the calendar acts as entertaining reminders of the standards we all want to hold ourselves to.

With the 4th and 5th calendars, we discussed the idea of doing a "Greatest Hits" calendar where we would mostly use our best ideas from previous calendars. Some we would re-shoot the pictures, others might get touched up, and a few images would be new. This would make the it one of the best calendars we could make, since it was using our previous, great ideas! With five calendars under our belts, we've decided it's time to do just that. We've got loads of previous images and ideas to choose from.
2017 Kickstarter
We've set up another Kickstarter. This time, for the 2017 Software Craftsmanship calendar.
Stretch Goals
We want most of the images in this calendar to be the best images from previous years, so that this calendar can be our best one yet. We are willing to take some chances by adding a couple of new ideas and images, so we're setting those up as stretch goals this year.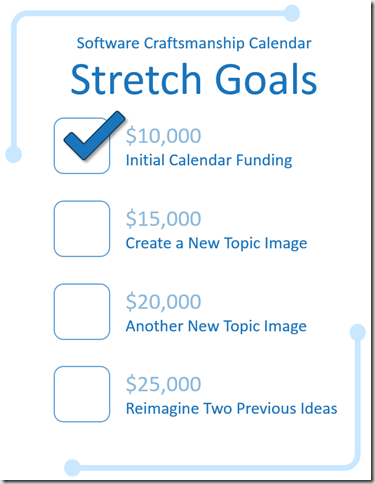 Please go back our Software Craftsmanship 2017 Calendar Kickstarter, and get yourself or your team some calendars to remind you how you want to be building software. Or if you like, pick some up for those people who could really use the reminding.