The 2014 Software Craftsmanship Calendar is now available for preorder!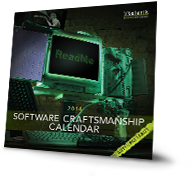 If you were a fan of any of the previous Software Craftsmanship Calendars or just liked the posts about some of the months, you'll be glad to know that we continued making a new one. We are continuing to alternate between Good Practices and Bad Practices, so this year (being the 4th) is a calendar of anti-patterns.
Each month of this calendar shows something that you shouldn't do, but plays it off as a good thing. You'll also find an interesting, related quote and a definition of the anti-pattern on each month.